OVA
| | |
| --- | --- |
| Designed by: | Florian Schulz + Jens Schump |
| | |
| --- | --- |
| height: | adjustable 1.5 to 2 m (59.06″ to 78.74″) (standard)* |
| oval shade: | 125 cm long, 47 wide, 4 cm high (49.2″ long, 18.5″ wide, 1.6″ high) |
| canopy: | 47 cm long, 14 cm wide, 5 cm high (18.5″ long, 5.5″ wide, 2″ high) |
| illuminant: | LED with glare protection incl., light upwards and downwards, approx. 4800 Lumen** |
| color temperature: | warmwhite 2700 K*** |
| color rendering: | > 95 Ra |
| dimmer: | possible via house installation (standard)**** |
* Other heights possible, each with a range of 50 cm (19.7″).
** higher lumens on request
*** 3000K + 4000K on request
**** on request: LUN-DALI 300 W or Casambi Module.
Alternatively, we recommend (without obligation) the following dimmer brands:
Jung 1731DD

Gira 540100 (System 3000)

Feller 40200

Berker 85421100

Busch-Jaeger 64851U

Kopp 8455

Eltako EUD61NPL-230V
110 Volt/USA:
Dimmer: possible via house installation (1-10V)
4″ junction box: covered
Additional USA 110 V conversion kit: available on request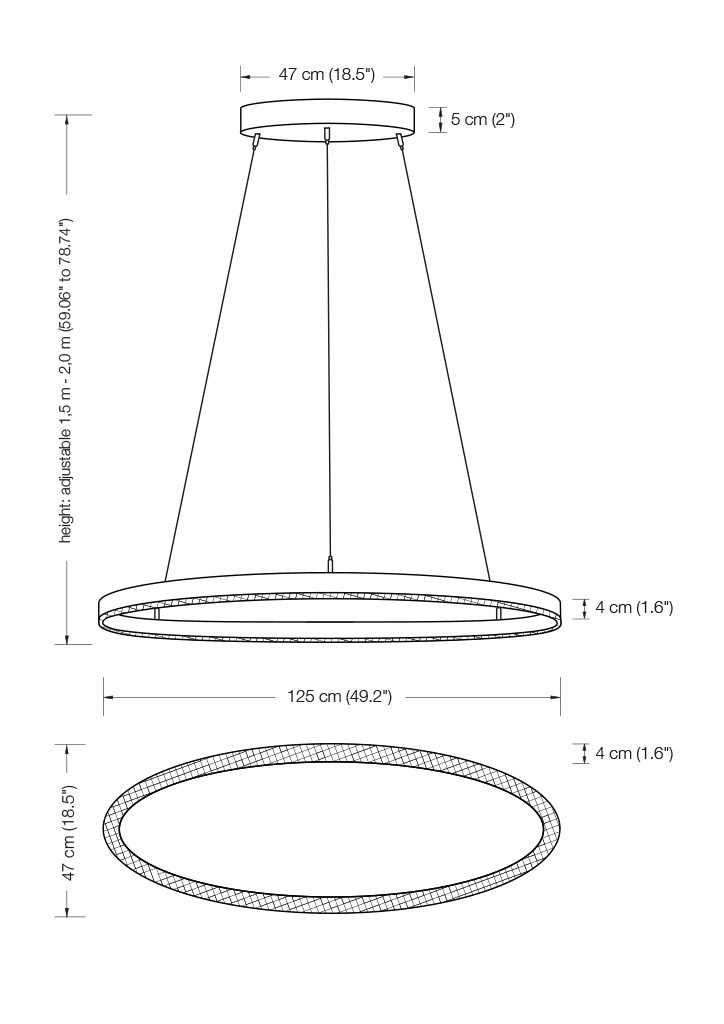 Online article "SWR Handwerskunst": How to build a handmade lamp
Unfortunately the video is in German. But in your settings you can show the subtitles and have them automatically translated into your language.
The smaller version is our model OVETTE: